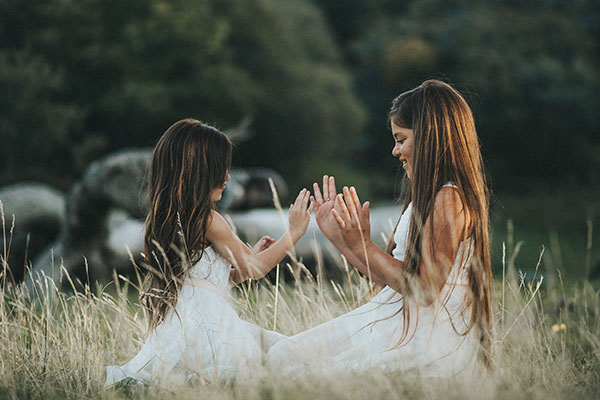 Children learn positive social emotional skills through example/modeling, practice of skills seen, and recognition of appropriate responses by adults.
Children are motivated to learn and master skills through positive, fun interactions and experiences. Thus play situations offer the best situation in which to teach and have children practice and master social emotional skills.
Suggestions for teaching social emotional skills through play:
Ages 0-5 years: Adult-child play and adult supervision of child to child play allows children to learn, (through ­modeling) practice and master skills. Age appropriate activities include:
Story telling/reading

Singing songs together, especially interactive songs

Turn taking with toys (ball throwing, drumming…etc.)

Working together on task (filling a bucket, completing a puzzle, building with blocks)

Engaging in imaginative play (playing with dolls, dress up, role playing)
---
Ages 5-12: Interactive activities with small to medium size groups allows children to try different scenarios in situations to determine the most appropriate and effective interactive skills based on adult and peer response. Age appropriate group activities include:
Playing Board games

Acting in plays

Playing a sport/recreation program

Joining a club (Boys/Girls Scouts, 4-H, Church group, interest club)

Participating in community/service projects

Participating in regularly assigned chores at home

Attending camp
---
Age 12-17: Interaction in the community allows children to learn societal expectations and consequences. These experiences can be reviewed at home to assist children in understanding the adult and "outside" world. Age appropriate activities include:
Volunteering in the community

Church/Community youth groups

Employment for others

Self employment (Babysitting, yard work, etc)

"Sleep overs" and visits to friends home

Using public transportation

Overseeing home chores/projects

Supervising other /younger children (Camp Counselor, Scout Patrol Leader
Essential to assisting children in mastering appropriate skill sets is adult guidance and opportunity for discussion. This allows children to explore what went well and what needs to be different in the future. These reflections assist children in understanding rules, expectations and their role in different situations.
Click Here for Article PDF